How to use the EMS system to control heating and cooling units and its Advantages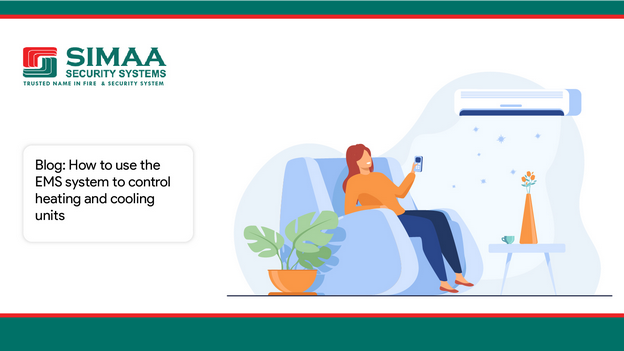 What is an EMS system?
Energy Management solutions is a type of system which is designed to automate the monitoring of energy consumption. It can help you adapt and improve your energy consumption habits, reducing fossil fuel usage and saving you money.
EMS systems are used for commercial enterprises, villas, and homes with different technological devices like Meters, thermostats, controls, monitors, and software programs. These devices are smaller, faster, and affordable to all and the Applications of EMS are majorly for high-rise residential and commercial buildings, Industrial buildings, etc. So you can select the device based on your requirement.
EMS Systems in Heating, Ventilation, and Air Conditioning
EMS in Heating, Ventilation, and Air Conditioning systems can analyze the inefficiencies, and errors in the system performance, Here're a few points that the system can detect:
Efficient Usage of Air Conditioners and Heat Pumps
Maintenance or repair requirement
Equipment replacement indicator
Benefits of an Energy Management System:
Energy Saving
Continuous Monitoring of energy usage and resolving the cause of the energy wastage can bring down your energy consumption and your bills.
Better Facility Performance
From HVAC Systems to lighting operate the energy management system continuously and if there is any issue it can be rectified immediately and you won't face any interruption in the system.
Carbon Emission Reduction
When your opt for the Energy Management System, You not only save energy consumption and your bills, But you also reduce the carbon emission.
Measure Results
Once you opt for the Energy Management System you can start measuring your results and you can see the improvement over time.
Now that you know how these systems can save you time and money. For any type of EMS issue or doubt, You can always reach out to the EMS experts SIMAA Security Systems with 15+ years of experience in this field. Reach out to us at [email protected] to know more.
More About SIMAA Security Systems
SIMAA Security Systems provide customers with State-of-the-Art Security and ELV System Solutions. Since 2003, SIMAA has been providing diversified Solutions to Projects, Fit-outs, Refurbishments, and the Service industry.
Being a SIRA and TRA Approved company, ISO-9001, and OHSAS-18001 certifications reflect commitment to maintaining high standards in all aspects of the business ensuring quality products, services, and happy customers.
"As we step into 2022, we endeavor to improve our market presence by providing a Comprehensive portfolio of Security, Life Safety, Automation, Audio-visual, Power, Telecom Network Products, and Services to the Construction industry. As a System Integrator of repute, Simaa would like to add to its impressive reference of the small, medium, and large projects successfully executed and handed over in the last 17 years. Our flexibility with brands and catering to even small fit-outs efficiently and effectively is our USP". Says Mohammed Shakeel, General Manager, SIMAA Security Systems.